ITV's Save Money Good Food shows volunteers how to stop wasting money on food by using up leftovers, or not overspending in the first place.

Food's an easy category to make huge gains quickly if we're saving for a big goal like a house deposit. We have to eat after all, but many of us also fall prey to buying too much food. Or we're lured into choosing products and ingredients we could get much cheaper.
My recent posts for first-time buyers have been mainly property focused. I wouldn't have been able to buy my first house without zeroing in on my spending priorities. Getting the best value for money at mealtimes was one of the areas that really helped. I'm going to be posting a lot about food savings therefore to help us all cut back in the kitchen while still eating well.
Save Money Good Food: the premise
I thought a recap of series one presented by Susanna Reid and chef Matt Tebutt would be a good start. Each week Matt makes four or five meals from items the volunteers already have languishing in their kitchens.
One of these recipes is usually a fakeaway, or a homemade meal to replace a takeaway for big savings. I learned a lot even though I thought I was doing pretty well to budget my groceries. Or if you're completely lost, this should be a comprehensive intro.

The best part is that the tips are timeless. I'm recapping all series of the show so far since they're as relevant now as when the programme started. Or more relevant, since many of us during lockdown have had to avoid popping to the supermarket like a yo-yo.
Most of the guests are families, so Matt aims to keep the entire meal under £5. If we're cooking for one, we can still use these tips, as per portion it makes dinners under £1 or £2.
Also each episode features taste tests of supermarket own brands. This often demonstrates we can get something that tastes good but costs less. Other segments include how we can optimise discounters like Aldi and Lidl. All the advice will serve you for life, so I hope you save more and spend better afterwards.
Here's what I've covered below:
Episode One
The Problems: Unused staples and spices, prechopped and reduced veg
Recipe #1: Cajun Chicken with Pomegrenate Salad and Tuna Fishcakes
Recipe #2: Broccoli Seafood Pasta (and Tea Fruit Cake)
Recipe #3: Chorizo Frittata
Recipe #4: One Pot Chicken and Chorizo Rice
Recipe #5: Indian Fakeaway and Roasted Banana Dessert
How to Get Better Value for Money
Breakfast/Lunchbox Potential
Freezer Potential
Nutrition Potential
Taste Tests: Cornflakes, baked beans, and smoked salmon
Other Ways to Save: The Real Junk Food Project; Aldi and Lidl
What About The Save Money Good Food Book?
Final Top Tips!
What they don't always mention
Where it's not mentioned on Save Money Good Food, I've added in where we can safely freeze extra portions. Also I've assessed whether we could take them out the next day for lunch, or even have dinner for breakfast.
All of the maths below comes from the show. (For once I didn't have to take off my socks to write a post). They devised the pricing based on using ingredients from the supermarket budget ranges. This was regardless of what brand their volunteers already had in their cupboard.

Under their recipes, I've added how to get even better value for money from their ideas. Prices change obviously, so let me know in the comments if you find something cheaper.
The best value for money is not the same as the cheapest shopping. If we wanted to eat like Jesus in the desert, we'd do it already. The cheapest recipe is often the one that strips out meat, fish, or our favourite flavours.

There needs to be a balance between cost and nutrition too. Existing on three ingredient beige meals until we get sick is a false economy. Then we end up spending our weekly food budget again on pills and potions to feel better. The best value for money means tweaking methods to stretch expensive ingredients, or simply buying them in a different format.
Also when a chef makes a show's concoctions, they're going to be interested in getting the most flavour possible. If our tastebuds prosper with a little less excitement, or we just think food is fuel, then we can use less seasonings.
I've also included for each episode any equipment and the cheapest ways around this. There's no point having budget ideas that require buying up a caterer's dreamland of gadgets first. A few simple pieces are an investment. A blender or food processor can be an
investment if it's used a lot, but there are fixes if we don't have one of these.
Recipe…What recipe?
If we don't have every single ingredient in the example then that's fine too. The whole point is to experiment with what you DO have. We're less likely to have every ingredient listed if we regularly shop only for our onesie. I'm writing this during the current corona restrictions, so I'm also vetoing the odd ingredient to avoid a trip out.
While I mention it, the "recipes" are not super detailed on purpose. The beauty of learning to cook with what we have to hand is that you get a lot less precious about following a recipe. I have been a hazard in the kitchen in the past.
The same coordination (or lack of it) applies to everything I bake or burn.Yet I manage to cook at home nearly every day. I don't worry about booboos because it's just one meal. Also if I didn't experiment I wouldn't have the knack to combine x, y and z without consulting a chef first.
I'm not a nutritionist. My aim is to never make any health claims without pointing evidence. I've tried to make it clear below what's come from the show and what's my two-bits. I also don't think we all need a PHD just to feed ourselves! I've queried each episode's nutrition from a layman's perspective to challenge the notion that we must sacrifice this to eat cheaply.
Want to know how to save in other categories besides food?
Try these three posts:
How I Saved Half My Wages For A Deposit While Renting In London
How to Get Fit Fast (For Free): Recap
I've also struggled previously with how to have a variety. If we're only buying ingredients for one or two people, we don't want to go overboard stocking up. However, we can preserve food in lots of ways. Anything to avoid surviving on one recipe until our tongue gets up and leaves…
Some of you will find their tips and mine common sense. That's great – it means you're probably already pretty savvy at saving in the kitchen. A lot of the pointers that are instinctual for me today weren't always so.

We all have to start somewhere. Learning how to cook flexibly can push our dinner habits in a happier and healthier direction. Do jump in the comments if you have anything to add that might help others.
If you are in a food rut, and want quick and healthy budget cooking, I hope this is useful.
Episode One
The Problems: We've got £240million of unused spices in Britain's cupboards. The first guests on the show Manoj and Amy Thompson-Raja had 27 different types of spices at home.

They also had multiple bags of flour, sugar and pasta…Or £184 worth of stored food that doesn't need to be chilled/frozen. This means they could cook from their cupboards alone for several weeks without needing to go shopping.
Typically they also bought expensive prechopped veg, although it only takes a few minutes to chop it ourselves where possible
They also liked buying reduced veg, but then when they got home they'd realise they've got an old one
They'd throw away the existing food for the fresher item even though the older food hadn't gone off
Their freezer food sat for months and months
While a freezer is great for emergency meals, it's not economical to forget what's in there altogether. Manoj and Amy still managed to spend about £170 per week on more shopping.
Manoj thought they were spending £70-80 per week. Amy thought they were spending £100, so we also tend to underestimate how much we're buying.
Anyone can save money
Hang on a coco! I know some viewers were peed off when this first aired. They disliked that anyone was even featured that could "afford" to spend this much on food. I'd like the blog as judgement free as possible, so I got two crucial things from this.
A) Just because someone spends more than us, doesn't mean that they can afford it…
B) Anyone can benefit from help wasting less money (and food) regardless of their income.
I'm not commenting on the Thompson-Raja's finances specifically, but sometimes when people overspend it's actually because debt has become normal for them. We can't assume someone is a high earner necessarily. Anyone can benefit from better value for money. This is whether it's to avoid debt traps, or because we have a low salary and a big savings goal (the latter led me to you today).
Savings are relative, but either way, the first episode's volunteers saved a life-changing amount after the show's help. I'd rather focus on how to replicate spending 90% less on a weekly shop than criticising them. Especially when they themselves were unhappy with their spending not aligning with their priorities.
Recipe Ideas – Eat All The Things!
Equipment Required
Baking dish
Frying pan
Chopping board and knife
Saucepans
Large bowls for mixing (or use a spare saucepan)
Dutch pan for recipe #4
Recipe #1: Cajun Chicken with Pomegranate Salad and Tuna Fishcakes
Ingredients
For the chicken
Chicken (thighs)
Flour
Eggs
Cumin
Paprika
Salt
For the salad
Mixed beans
Couscous
Pomegranate
Parsley
For the fishcakes
Tuna
Spring onion
Sweetcorn
Flour
Wait! Where are the quantities? The show is pretty vague about measurements, and I actually think this is a good thing. The Save Money Good Food book that accompanies the show has exact measurements. However, if we're going to learn to use our leftovers, we need to get less hung up on perfect quantities. Unless we're precision bakers, we can quite often be free and easy with ratios.

I've written more about portion sizes and nutrition further down. Following portion sizes at its simplest means eating a majority of vegetables, with the protein and starchy ingredients taking a backseat. Portion sizes mean less fussing with scales etc.
For the cajun coating use as much spice as you prefer. Having the exact ingredients isn't a reason to quit, and neither is not having the exact quantities. If we're trying to eat up odds and ends anyway, then we can just bulk out a salad or the fishcakes with what we have spare instead. Be brave!
Method
Coat the chicken in flour, salt, cumin and paprika
Dip them in egg white and flour again to bind the coating
Bake
For the fishcakes, mix egg yolks with tuna, sweetcorn, spring onion and flour
Form into the shape you want before frying on both sides
For the salad, cook the cous cous as per the packaging
Mix chopped parsley, drained mixed beans, and a chopped pomegranate into the couscous
Total cost: £4.61 for two courses
How To Get Better Value For Money
While the initial aim is to eat up what we've abandoned, there will also be times when we do want to buy an extra ingredient for the best price. Or once we know how to reinvent leftovers, we can add any of the staples to our usual shopping list. In which case we'll want to shop for the best value options.
The show's tips
Matt used some reduced chicken thighs that were already in the fridge. Boned meat is cheaper anyway because it's sold with the idea that it's less convenient as you'll have to eat around the bone, or remove the bone yourself before cooking. However, the bone also adds flavour, and the difference in price can be quite steep. Therefore it's usually better value than breast either way.
It's also cheaper to make your own cajun coating than to buy seasoned chicken. We can control the salt then too.
They conceded that pomegranates are relatively expensive fruits at around £1 each in most places. If you only use 1/5 then the seeds will top up a salad for the whole week. Buying the seeds alone is usually three times as expensive.
If you only use the egg whites above for the cajun chicken, you can freeze the yolks for baking, or adding to sauces/mayonnaise. (Conversely, you can freeze the whites if you're only using the yolk).
My tips
I found couscous cheapest in 1kg boxes in Aldi; avoid the seasoned pouches as these aren't economical.
The tuna and beans will usually be cheapest tinned. Look for sustainability labels on the tuna if you're can't work out otherwise why all the choices on the shelf are different prices.

What if two sustainable choices look the same, but one is cheaper because it's own brand? Buying the more expensive tin won't usually have any added benefit (except bigger profits for the branded version). I found tuna cheapest in Lidl.
Rinse tinned beans if you're worried about added salt. Mixed beans aren't always easy to find in a discounter because of their limited ranges. Most of the major supermarkets sell their own brand tins for about 65p per 400g or around 16p/100g. Lidl theoretically do them for 12.3p/100g. Tesco especially does multibuys on tinned beans that make each tin 50-55p, so stock up then if that's nearest. If mixed beans aren't in stock, or aren't included, then it's even cheaper anyway to buy the beans in their individual tins and mix your own.
Aldi or Lidl are usually the most competitive for the cheapest frozen sweetcorn.
If you have a local fruit stall or market, it's worth comparing prices. Supermarkets are also more likely to seal everything in plastic.

Regards the pomegranate, I agree that this is versatile and goes a long way. I found 65p pomegranates in Lidl, so you don't have to pay as much as they suggested either. Out of our season they're 85p, but the last one I bought was nearly the size of my head and added a fruity juicy crunch to meals for over a week. Also they can be used at any mealtime or as a snack. They can be messy to deseed though, so don't wear white…
Eggs and chicken
The most economical way to buy free range eggs is usually to get the biggest pack size possible. If you only wanted a few eggs and don't want to waste the rest, then remember that best before dates are just a guide. If a whole egg sinks in water then it it still good to eat (if it floats, it's because the gas from decomposition inside is escaping, so a floating egg is a rotting egg). I found Aldi cheapest.
If you're without eggs, flour, or one of the spices then cumin chicken or paprika chicken is still tastier than plain. The eggs and the flour create a coating, but you can season without them if you're really stuck.
If the lack of cooking happening is not because you don't know what to do with seasoning ingredients, but because there's no seasonings in your cupboard, then it's an investment to collect a few common herbs and spices. Check the world food aisle for cumin and paprika as it can be cheaper per 100g than buying in the spice section. This depends on location. When I moved out of London, the world food aisle selection got pretty sad in my local supermarkets! Otherwise the supermarket own brand is usually cheapest.
Portion control
Straight away I thought this was quite a lot of food. They are obviously trying to prove though that you can sometimes rustle up an entire feast from what you've already got lying round.

For most of us the chicken and salad would be a hearty meal by itself. I'm mostly veggie, so I would just make a bigger salad from the sweetcorn and spring onion as I'm not likely to have parsley (ugh!) or pomegranate knocking about.

The best part about using up what you've already got is that there are no rules, mix and match what you like! However, if you usually have meat daily, then going meat-free just one day a week can knock a big wedge off your shopping bill.
Recipe #2: Broccoli Seafood Pasta
Ingredients
Any pasta
Broccoli or greens
Garlic
Tinned sardines
(Frozen) herbs
Chilli
Method
Boil the broccoli with the pasta
Fry garlic and chilli in a teeny bit of oil
Add the garlic and chilli to the broccoli pasta
Mix in tinned sardines and frozen herbs
Total costs: £3.55 for both courses. Matt soaked raisins in tea and added them to homemade cake mix to make a Tea Fruit Cake.
How To Get Better Value For Money
The show's tips
They rescued coriander and unopened fresh broccoli from the bin. Don't bin it if it looks fine, but has gone past it's best before date. We can revive any green/leafy veg in 30 minutes of ice water. Broccoli that's faded can also be kept in water overnight to refresh it (chop off the stalk). Most of us chuck broccoli stems, but these boil too, or they can be used in the frittata Matt made later in this episode.
Leftover yoghurt can go in cake mixes instead of milk.
My tips
You could use up prawns or other tinned fish with the pasta, or swap the seafood for more veg. Lemon, parmesan, and nuts like almonds or walnuts would also go with these flavours if you don't like fish. Asda's tinned sardines are only 34p a tin vs 50p in Sainsbury's. Lidl are cheapest for raw nuts.
Regards the cake mix, making your own from economy brand flour, butter etc doesn't take much longer than ready made mix and will be cheaper because you can buy the individual ingredients in bulk.

The only raisins in my life are extravagant bags of Nakd raisins procured in Holland and Barrett's penny sales a few times per year, making each bag 25p per teeny serving. While I occasionally add the lime flavour to recipes, I pay more for these than buying plain raisins in bulk because otherwise I would rarely eat a raisin by choice! Especially as I don't bake much these days.

If it is just for baking, then nearly everywhere does 1kg bags of own brand raisins for around 30p/100g; these raisins might not taste as nice for snacking, but are fine once they're in a cake.
Pasta
They used spaghetti for the pasta. "Hubbard's Foodstore" in Sainsbury's is 40p/kg. This materialised when they're economy packaging disappeared, so I think this is just a fancy own brand name for Sainsbury's spaghetti. (The economy packs were 20p/ 500g, so they've increased the pack size, but the cost is the same per 100g).
Otherwise buying penne or fusilli in 3kg bags is usually the next cheapest option. Wholewheat pasta always costs more than white pasta, but might be worth it to you if you don't eat a lot of fibre otherwise. The other compromise is to buy both and mix in a bit of wholewheat.
I eat mostly plant-based, but this means I need to pay attention to make sure I get enough protein. Protein pastas from Explore Cuisine and Napolina are not cost effective, but Aldi do budget versions made from black bean, edemame and mung bean. I found these useful for vegetarian dinners that didn't have a great protein component otherwise. They cost more than any other form of wheat pasta still, but it's a compromise if the protein is more important. These are less porous than wheat pastas, so nom in a bowl rather than a plate, otherwise any sauce slides straight off.
Nom…Plants
Buy garlic cheapest in a fresh bag of four or five. Chop it all up and put it in a freezer bag instead of existing on garlic for days and weeks. Otherwise I think Tesco has the cheapest individual garlics at 16p (when they have them at all…)
Frozen broccoli is usually cheaper than fresh and less likely to end up in the bin if it gets forgotten. Aldi and Lidl's bags seem cheapest. Frozen veg is sometimes chopped and as mentioned in the opener, vegetables that have been prepared for you are usually priced higher for convenience. However, this applies more to fresh chopped vegetables. Generally the hierarchy of cost from most expensive downwards is chopped fresh veg, fresh veg you chop yourself, and then frozen veg.
If the world food aisles are lacking near you, then frozen herbs can be the next most economical after fresh, especially if you don't want to look after a herb plant. On the flipside you can make herb cubes by freezing fresh herbs in butter in an ice cube tray.
If you don't cook with anyone you share rent with because of different tastes, something like chilli is easy to add to a meal after cooking. This way you can save by cooking together, then adjust the spice to your taste afterwards.
Recipe #3: Chorizo Frittata
Ingredients
Chorizo
Broccoli (stalks)
Onion
Red pepper
Spinach
Eggs
Cheese
Method
Fry the onion, red pepper, chorizo and the grated broccoli stalks leftover from recipe two
Over a medium heat, add spinach and beaten egg
Keep drawing the egg into the middle of the pan (like with an omelette)
Put the whole pan under a grill with cheese on top
Total cost: £3.32
How To Get Better Value For Money
The show's tips
This is an introduction to what you can do with fresh broccoli stalks if you'd normally throw them away. I said in the previous section that frozen broccoli is cheaper than fresh; this is less stalky usually…
They said this only took five minutes overall which is also a great energy saver. I think five minutes to cook the above is a bit optimistic for most of us, but it's still a quick fix generally.
My tips
No cheese, no problem! Grilled cheese adds to the flavours, but it's still a frittata if you don't have cheese. You can put almost anything in a frittata anyway, no chorizo or meat required. Load in more veg. Otherwise the cheapest way to get chorizo is to buy a ring from Aldi or Lidl that you slice (unless a butcher can do better). Aldi, Lidl and Asda all have own brand cheddars for about the same price per kg as each other. Cheddar blocks will always be cheaper than grated.
Lactose free ranges are still a bit limited. While the discounters sell lactose free milk cheaper than the big names, only Tesco et al. usually have lactose free cheese. On offer Arla's usually drops to £1.50 vs £1.80 full price. Cathedral City's is more expensive just because of the brand name.
Chopping raw onions makes most people cry, but it makes me cry so bad that I can't even see what I'm doing. If you're the same, or just don't use onion that often, this is one of the few times when it's more economical to buy preprepared vegetables. Given that I don't have the best hand to eye coordination with a knife or anything else anyway, I find it safer for everyone too if I buy chopped frozen onion. Iceland or the discounters are usually cheapest.
Lidl are cheapest for frozen mixed peppers. If you cook peppers from frozen they retain a lot of water, so for some recipes you want to squeeze out as much as possible to stop them making everything else soggy. They mention in a later episode that frozen spinach is cheaper than fresh. The same applies to stop your frittata from swimming.
Recipe #4: One Pot Chicken and Chorizo Rice
Ingredients
Chorizo
Chicken
Leeks
Rice
Basil
Bay leaf
Saffron
Method
Fry the chorizo, leeks, and rice with the basil, a bay leaf, and saffron in a dutch pan
Boil all the above in chicken stock
Put the dutch pan in the oven for 15 minutes
Stir in raw chicken, then oven cook the pan for 15 minutes more
Total costs: £2.54
How To Get Better Value For Money
The show's tips
Living basil lasts as long as it has water and daylight versus packaged fresh basil (or any other type!). It's more economical to buy a plant if you cook with fresh herbs regularly (and better for the environment depending on the packaging otherwise).
My tips
Saffron is a pricey ingredient to buy especially, but the chorizo, basil and chicken stock (and bay leaf if you have it) can work hard in its absence.
Rice is always cheaper to buy in a bulk bag rather than smaller pouches. However, there is a sweet spot for the pack size that makes it economical. Lidl's 1kg brown rice is the cheapest in my area. If you're not fussed about buying brown versus white, then look at buying even bigger bags in the world food aisles. Occasionally a 5kg bag of white rice can work out cheaper per 100g. The 10kg bags in most supermarkets are not as competitive, so this is one area where buying the largest quantity doesn't always make it cheapest per unit.
I don't really like white rice, so I use brown rice like a heathen every time regardless of whether this is what was intended flavour-wise. (Brown rice is a bit nutty in flavour whereas white rice seems to soak up more of the other ingredients). Basmati rice has a very specific flavour (like an old sack if you ask me, but other people love it). So if you're switching rice in search of something cheaper, just beware that it can be an acquired taste if you're used to white rice.
Leeks are cheapest loose by weight at Asda (around £1.19 per kg, unless you can find packaged fresh on offer elsewhere, in which case they'll be reduced to match this just about). Otherwise the next cheapest option is usually frozen (aim for around £1.50/kg), with fresh in plastic or fresh bunches being closer to £2/kg.
Recipe #5: Indian Fakeaway – Pork Curry, Roasted Spiced Cauliflower, Chapatis, Lentil Dahl, and Rice
Ingredients
For the pork/lentil curry
Pork shoulder
Onion
Garlic
Cumin
Cloves
Garam masala
Coriander
Cinnamon
Chilli
Tinned tomatoes
Stock cube
Lentils
For the sides
Flour (chapatis)
Cauliflower
Rice
Method
For the pork curry, fry the onion, garlic, cumin, cloves, garam masala, coriander, cinnamon and chilli
Add tinned tomatoes, a stock cube, and then the chopped pork shoulder
For the lentil curry repeat the above, adding lentils at the end instead of pork
Roast cauliflower in as many spices as you like
For the chapatis, see

this example here

The rice can be boiled as per the packet
For dessert roast bananas, then dip in melted chocolate (and pomegranate seeds)
Total costs: £5. This was to replace a Friday takeaway worth £40 of five Indian dishes (plus a home dessert).
How To Get Better Value For Money
Pork shoulder is the cheapest cut of pork anyway if you are buying meat especially. Below I've written about the nutritional side of this feast and upping the vegetable quotient. If the majority of a dinner is vegetables this will usually be cheaper by default. Although chapatis are just flour and water…
Buy raw lentils in bulk rather than in smaller pouches. Like rice, there is sometimes a sweet spot that makes bulk lentils most economical. The biggest bags are not always cheapest per 100g. Lidl's 500g red lentils beat a lot of the branded bigger bags elsewhere.
If you're not going to use this many spices often and your world food aisle isn't great, then invest in an own brand curry powder containing most of the above spices instead.
You can still roast frozen cauliflower, but you might want to steam it quickly first in the microwave and squeeze out some of the water.
Stock cubes are mostly salt, so don't bother overpaying for a big brand. Economy brand tinned tomatoes are one of the few things that are priced much the same everywhere you go (around 7p/100g).
I'm compiling a page with all the cheapest ingredients listed in one place, so subscribe if you want to know when that's ready (very soon!)
Breakfast/Lunchbox Potential
The frittata was the only recipe that had real breakfast potential. Reheat meat and fish thoroughly second time around, or have the cajun chicken cold.
I used to make a week's worth of pasta lunches on a Sunday. Portions one through four generally survived in the fridge, but I had to either freeze one to defrost for Friday or have a change that day.
The recipe with the shortest life in this episode was the one pot chicken and chorizo because of the rice.

The Indian Fakeaway alone would give one or two people an entire week's worth of meals if you split the dishes up over different days.
Freezer Potential
I would expect you could freeze the fishcake mixture in recipe #1 before frying. I wouldn't personally worry if I'd cooked the sweetcorn from frozen because cooked food that was frozen before cooking is generally fine to freeze one more time and heat again. If in doubt, check the NHS guidelines on food safety.
Nutrition Potential
What the fudge is a portion size really?

Like I said at the start I'm not a nutritionist, so I rely on the NHS or experts like dietitian Priya Tew. She has a guide to portion sizes here that uses your own hand.
I find a lot of recipes very protein heavy since I stopped buying meat which is ironic because usually the first cause for concern is where to get your protein! Recipe one and the chorizo frittata have more than one source of protein besides the meat. This is where knowing portion sizes is useful because besides the health implications, overeating for the sake of it is not very wallet friendly.
I have tiny bear paws, so I wonder if chicken AND tuna AND beans in recipe one (on top of the other protein I have in a day) might be too much for my needs? Someone who weight trains can get away with "overeating" protein as they're more likely to convert it to muscle. Or if you're trying to use up fresh tuna and chicken before its use by, I guess try and bulk out each tupperware with the other ingredients so that you're not eating an arm's worth of fish and meat, and very little else.
The show's nutritionist Claire Baseley has a blog post about how much protein is "too much."
Regards the frittata, a little chorizo and cheese goes a long way, so we're not likely to eat a palm's worth of chorizo, plus eggs, plus cheese…Except sometimes when we cook something new, it's easy to overdo one food group. Or get a bit overexcited at the end and grate nearly all your cheese on top…
How to eat more veggies
The same applies to the chicken and chorizo pot. A little bit of chorizo adds a lot of flavour. If we're making a smaller batch of this for less people to eat over two days rather than trying to preserve the rice, then we probably wouldn't need to put in a whole chorizo ring for this recipe and a whole ring again for the frittata. I find with anyone raised eating meat that the meat and starchy carbs end up dominating dinner. Vegetables should actually take up the majority of the real estate.
The Indian fakeaway is a lot of food for one meal and probably won't all fit on a plate that easily. Most of us would also pile on the curries and the carb sides and then have a teeny bit of veg on the side (cauliflower in this case). Without doing either/or (pork or lentils, chapati or rice), it's still possible to have a palm-sized portion of the curries altogether for protein, share/split the chapatis with less rice, and then fill the rest of the plate with cauliflower and other veg. No?
This homecooking will likely have a lot less fat and salt than the average takeaway though, depending on how you like to cook.
5 A Day or 7 A Day?
Whatever your target, Claire Baseley also has budget friendly tips on how to eat more fruit and veg.
The chopped tomatoes and lentils count as one of our five a day each too. Lentils and beans only count as one no matter how many you eat though. So if you munched five palms of different lentils and beans, you'd only have ticked off one of your five a day still.
Otherwise the first meal and the frittata would contribute the best in one sitting to eating 5 A Day of fruit and vegetables (or 7 A Day in other parts of Europe!) I probably wouldn't count the tea cake as one of my five a day. Fruit is already sweet, so if we're eating fruit that's been modified with sugar then it seems less beneficial than having a serving of fruit by itself.
I'm not jumping on the bandwagon of demonising sugar. I've seen nutritionist Pixie Turner give a rollicking speech at an event before on food myths. She was wary of people fearing sugar or entire food groups as this isn't a nutritious approach either though, so balance, balance, balance…They made this because of the family's dedication to storing many bags of flour, so it's one idea to get rid of that bag of flour that keeps looking at you.
How much fish should we eat?
The NHS recommends at least two portions of fish per week, one of which would be oily fish. Once you know how to make tuna fishcakes, it's not hard to make a salmon version which would take care of your oily fish quotient.
Taste Tests
Cornflakes
Restaurant critic Jay Rayner and journalist Tracey MacCleod chose Tesco's cornflakes over Morrisons and ASDA because they thought the others had no flavour.

Morrisons had slightly less sugar and salt than the others, but if this is important to you, check the box as supermarkets can change their recipes.

Expensive market leader Kelloggs wasn't in the test, so see if you don't like Tesco's just as much for a big saving.

Baked beans
Tesco beat Asda and Sainsburys. The show's nutritionist Claire Baseley said the only difference nutritionally is that you get slightly more beans with Heinz (e.g. 51% vs 45%). Asda beans had 24% less sugar than Heinz.
Read her analysis of the taste tests and some other super cheap versus premium brands on her blog.

Smoked salmon
Lidl was their fave. Jay and Tracey found Aldi's chewy and slippery. Tesco's was the colour of TOWIE fake tan. The Tesco salmon also had half the fat of the Lidl product, but this is a natural variation that depends on the fish it came from. Salmon has good fat and omega 3 anyway, so don't worry about this nutritionally.
Other Ways To Save
Matt visited The Sharehouse run by The Real Junk Food Project. 10 tonnes of unwanted food was being delivered there daily from all sorts e.g. frozen Nandos. They also have cafes that use up supermarket waste, and a catering arm. Visitors pay by donation what you feel the food is worth, or with your time. I wish there were more of these warehouses throughout the country to save all the food businesses waste.
If you're not anywhere near TRJFP, then your next most economical bet versus the major supermarkets is to try a discounter like Aldi and Lidl. They are so cheap because having only a few own brands available means they get bigger wholesale discounts.
Their ingredients might also be cheaper e.g. discount shortbread might be made from butter and margarine whereas expensive shortbread is usually all butter. On the flipside, the show found that Aldi's Bramwells ketchup used 178g of tomatoes to make 100g of ketchup whereas Heinz only used 148g of tomatoes. (This might have changed). So have your own taste test and don't assume a cheaper product is lower quality!
What About The Save Money Good Food Book?
So another thing that some viewers weren't too impressed by when the show aired was that the Save Money Good Food book had an RRP of at least £15.

I've seen it listed for as low as £5 on Amazon though. That's probably not a bad investment for a book that has a lot more information not featured on the show, and many more recipes. I reckon it would probably earn its cost back within a week depending on how thrifty you are normally. Let me know in the comments if you've used the Save Money Good Food book and what you thought.
How Is It Cheaper To Visit All These Different Supermarkets?
So I did mention lots of different places to shop for only five recipes above. I've been lucky that at my last two addresses I've had at least three supermarkets within very easy walking distance. Having grown up in the sticks, I know this was a luxury. Even where I live now is fairly rural, but one of the reasons I chose the location was because the amenities are what I would expect of a much larger town.
If we don't have that choice locally, or the nearest supermarkets are all convenience stores, then we can try online (except for Lidl). See if travelling to your nearest would actually be cheaper when you take the travel expenses off the cost of the shopping though.

The key to this is not to buy other things we don't need from the non-food aisles. If you need to buy more to make a trip "worth it", then you probably didn't really need to go at all.
Although I shop at five or so different retailers to get the cheapest products in each, most of these items are staples that store for a long time. Or as per the show's wisdom, I make very efficient use of a few ingredients and freeze anything I can't eat before it goes to waste.

This means I can go a long time between shops. I might only go to Tesco a few times per year for example. When I do I stock up on the things they are the most competitive for and preserve those items. So if you don't have time to checkout at more than one store…Neither do I!
I don't have time to price compare
All of the nerdiness you have witnessed above regards price comparisons actually takes very little energy for two reasons.
A)My brain is wired to remember prices and places without much conscious memorisation from me.
B)Not shopping too often means I don't have to check for weekly changes. If I was doing that on all these ingredients, I would be buying way too much. There is a long list of things I would rather do instead of wandering around with a basket, such as writing this. I've done the hardest part for you.
Now go forth, and empty your cupboards! And when they're honestly empty, take a list and stick to the list. If your list is mostly made up of ingredients from this post/series then you should find some bargains.

Bring this blog series up on your phone in the shop if you must remind yourself how to conquer a layout that is designed to make you spend on what the supermarket wants you to spend on, not what gives you the best value.
Final Top Tips!
Turn cottage cheese upside down to make it last longer; this creates a vacuum that stops bacteria.

Storing onions in tights keeps them dry for months. Maybe don't wear the tights at the same time.
Total saving: £160. IN ONE WEEK! The Thompson-Rana's managed to do a shop of fresh fruit, veg, and meat for £11.42 under Matt's guidance. Quite a turnaround. How much could you save? Let me know in the comments if you try any of the above and the results.
Save Money Good Food
Here are the keys to reducing your weekly shop:
Don't go on automatic; raid your kitchen first
It only takes a few fresh or frozen ingredients to turn cupboard staples into a meal
Using different cooking methods mean we can eat the same few ingredients without boredom
Aim for own brand, frozen veg, tinned fish, and cheaper cuts of meat
Invest in tupperware for lunches and the freezer
Remember portion sizes to cut cost by default
Recreating favourite takeaways at home lets you control nutrition and can save 90% on price
Episode Two is all about entertaining guests. The recipes include Salmon Piperade, Gammon with Sage Roasted Veggies, Meringue Desserts, Leftovers Pie, Lamb Shoulder, and Tiffin. I've done recaps of all the Save Money Good Food episodes so far, so hang out as I'll be posting these just about daily.
This post is my participation in Katykicker's Meal Planning Linky: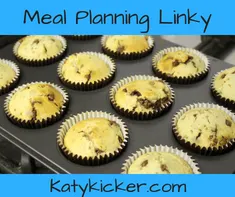 Don't forget to join the mailing list for more ideas direct to your inbox. Subscribing is also the best way to make sure you don't miss any posts in series like these. I'll get round to adding the Save Money Good Food series 2 recipes and Save Money Good Diet recipes in future. (Save Money Good…is a whole stable of ITV shows, so I'll have plenty for you to read!)